About Campbell & Haliburton Insurance and Investments
About
Campbell & Haliburton Insurance and Investments of Regina has been serving those in and around our community for more than 50 years. We offer expert investment and insurance advice to our clients in order for them to make informed, educated decisions. John Grant, president, and Daryl Arendt, senior broker, know the most important goal is to always protect the things our clients value and cherish. As an established and experienced company, our Saskatchewan insurance agency offers a wide of policy options that include auto, home, life, and commercial business plans.
Our knowledgeable insurance brokers don't just sell policies – here, we educate each customer on every policy option that would meet their needs in order to make the decision that is right for their lifestyle or personal requirements. These sound decisions are made possible by working with an experienced, well-trained broker such as those at Campbell & Haliburton! Through continued education in industry technology, our team can ensure all clients have a secure future.
Location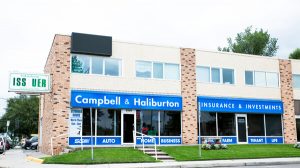 Conveniently located downtown near 13th Avenue at 2101 Retallack St, Campbell Haliburton Insurance and Investments is a certified SGI Canada broker. We also provide SGI motor vehicle and driver's licensing to save you time and effort – you'll achieve two tasks in one stop. When something happens and you need to use your home, auto, business, or life insurance policy, we'll get your claim processed quickly and effectively. We seek to make the process as easy as possible for every client.

Contact Us
With us, experience straightforward and simple insurance services. Whether you are filing a claim to renewing your plates, or seeking investment advice, we are at your assistance. Discover the Campbell & Haliburton difference – start by contacting us today!
Around the Community
The Cathedral Village Arts Festival runs once again this year from May 21 - 26, and Campbell & Haliburton will again have a stage featuring local artists and seating for a free concert event. Please stop by and celebrate with us, while helping us raise funds for our Big Bike event in support of the Heart & Stroke foundation.
Cathedral Arts Festival's Website!