Campbell & Haliburton Staff
Meet the broker team and staff members at Campbell & Haliburton Insurance and Investments of Regina! For reliable insurance policies and investment assistance, contact us today. Click on any of the names below to learn more about our people.
Daryl Arendt
Daryl has been with Campbell & Haliburton since 2000. He moved with his family from Manitoba to Regina in order to enter the field of insurance – a decision he has never regretted. He is licensed for both personal and commercial business, as well as being the only broker in our office who is licensed for life insurance. Since starting in the insurance industry, Daryl has received the Canada Accredited Insurance Broker designation with honours. When he is not in the office, you might find Daryl with his running shoes on, hitting the trails in and around Regina. This fall, Daryl will be running the Queen City Marathon Half Marathon as a pacer – helping other runners complete in their goal time. Of course, he will also be taking part in the Campbell & Haliburton Family 5k run that weekend. Besides Queen City, Daryl will be in Halifax, unleashing his inner pirate, and taking part in the Maritime Race Weekend.
Dean Bonyai
Dean grew up in Lestock, Saskatchewan, and moved to Regina in 1987. He attended the University of Regina and SIAST, where he studied Computer Programming. Then, in 2008, Dean became an Insurance Broker with Campbell & Haliburton. When he isn't at work or with his family, Dean is quite a golf and volleyball enthusiast. However, while in the office, he keeps staff and customers entertained with his extremely dry sense of humor.
Harold Knight
Harold has been an Insurance Broker for the past 27 years. In November of 2014, he made the decision to start at Campbell & Haliburton, and we are so glad he did. His knowledge and experience is a happy addition to our team, as he loves working with clients and meeting their needs. Harold loves dogs, and has 2 beagles named Gunner and Jackson. When not at the dog park, his free time revolves around baseball. He spent many years coaching baseball, and is a Certified Baseball Instructor. That has morphed into becoming the official scorer for the Regina Red Sox within the Western Major Baseball League. He is also an avid hiker and cyclist, loves working in his yard or doing renovations, and has almost finished writing his first full-length novel.
Wendy Arsenic
Wendy is one of the newest additions to the Campbell & Haliburton team, as she became licensed as a Personal Lines Broker in March of 2016. Before making the decision to become an insurance broker, Wendy not only received her Bachelor of Arts degree from the University of Regina, but she has also received her Private Pilot License. Wendy enjoys being active when she is outside of work. This is a good thing, considering she is a busy mom of two small children.
Athanasios Kiosses
Athanasios recently made the move to Canada from Thessaloniki, Greece with his wife and son. He started with us in February of 2016. However, prior to moving to Regina, he had 19 years of experience in the world of insurance. His knowledge and sense of humor are a fantastic addition to the Campbell & Haliburton family. When not at work, Athanasios enjoys reading and going to the gym. Or, you may catch him and his lovely wife at a fancy restaurant, enjoying a good bottle of wine.
Deb Landry
Deb has been in the insurance world for 35 years, and she has been a Chartered Insurance Professional Level 3 for the last 6 years. We are lucky to have her, as she graduated from the CIP program with the highest graduating mark, for which she received an award. When Deb is not hard at work, you can probably find her watching baseball or football, as she is an avid sports fan. In fact, you will most likely see her in a Rider jersey every Friday at the office. Another pastime Deb loves is gardening, especially when it involves her family. Nothing is more important to Deb than her family and time spent together.
Helen Mukendi
Helen is another new Broker who has joined us at Campbell & Haliburton. Helen received her Level 1 Canadian Accredited Insurance Broker license back in 2010. Along with being a huge tennis fan, Helen also enjoys watching all different kinds of sports. Of course, while watching tennis or sports on TV, Helen also enjoys a nice glass of wine. Another interesting fact about Helen is not only does she speak some French, but she also speaks some Swahili.
Front Staff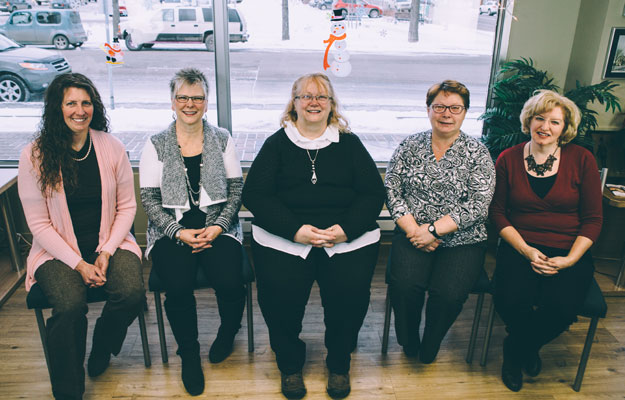 Blaine Petrie
Blaine has been an insurance broker since 2015 and joined our team at Campbell & Haliburton in January 2017. He is an avid gamer and collector of comics, with various interests in sci-fi genres. He has two cats at home, Boo and Chester. He received his bachelor's degree combined in History and Economics in 2015 from the University of Regina and has a mind that loves to learn. If you ask him what is the most important part of the job, he would say asking the right questions and getting the right coverages for each individual. Collectible items are not easily replaced and even more precariously valued, so making sure that you are covered for your important belongings will save you headache in the event of a claim.